[English]
Quick Shutdown is an one-key device shutdown helper application. You can shut down your phone with one click using this app without clicking your power button. You need to do a few configurations before it can help you turn off your phone.
Firstly, we need to switch your device to Developer Mode.
Go to Settings > Update and Security > For Developers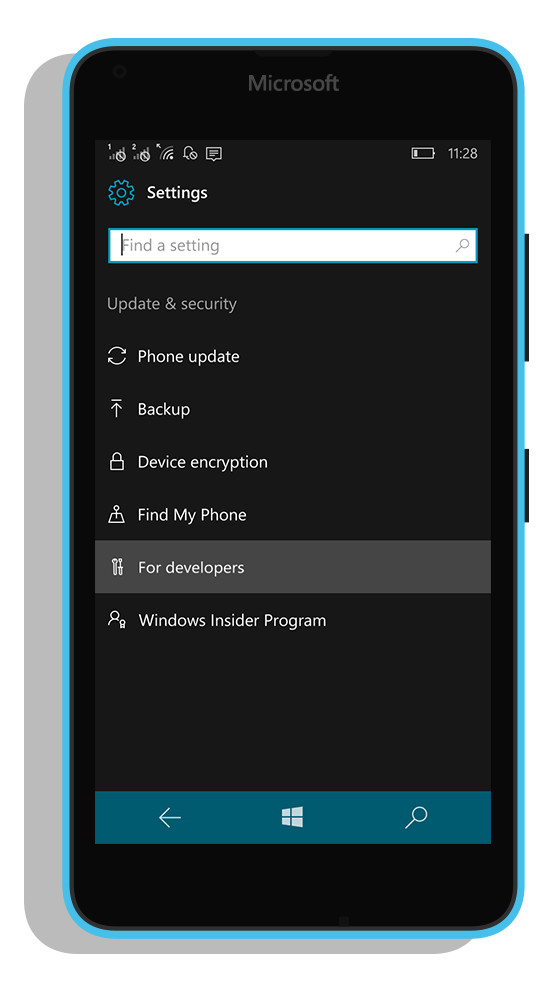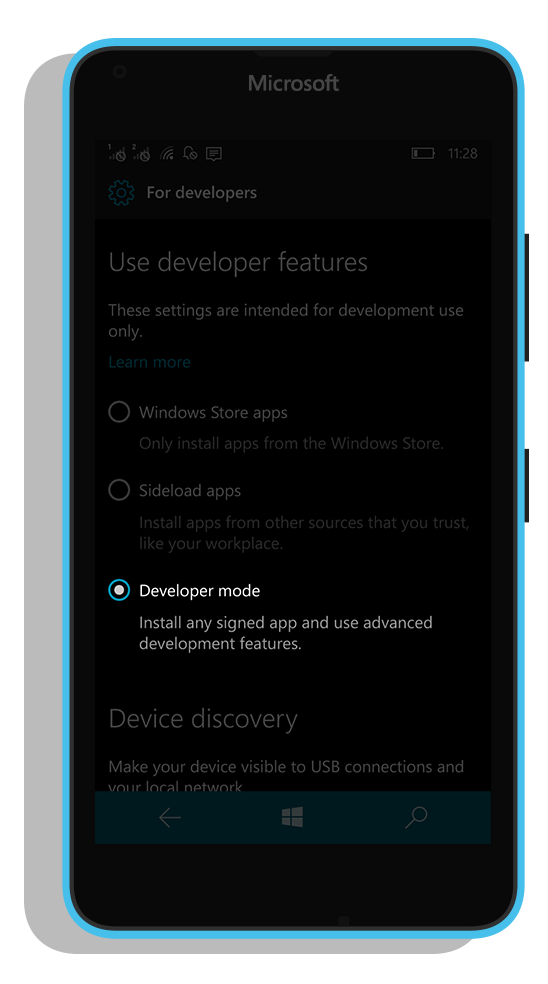 Turn "Device Portal" on

If you are using build 10586, we suggest you to turn "Authentication" off or else the app will ask you for connection credential every time you open it.
On the other hand, it will be less secure to turn Authentication off because everyone can connect to your device without permission. It can be risky when you are connected to a public network.
If you are still on the version before 10586 or you are running redstone builds, feel free turning Authentication on and you will only need to enter the password once with "Remember Me" switched on.
We won't pay responsibility to any possible damages caused by your violation operation. It's still a pre-beta version app. You have been warned about the risk to use this app(e.g. phone being attacked or remote controlled,data losing, hardware damage, etc.)
If you have any objection, please uninstall the app. If you have already paid, please contact me for refunding.
To get the pair password (PIN), go to Settings > Update and Security > For Developers. Turn "Device discovery" on. Then click "Pair". A message box will pop up. The code in the box is the PIN you need(case sensitive).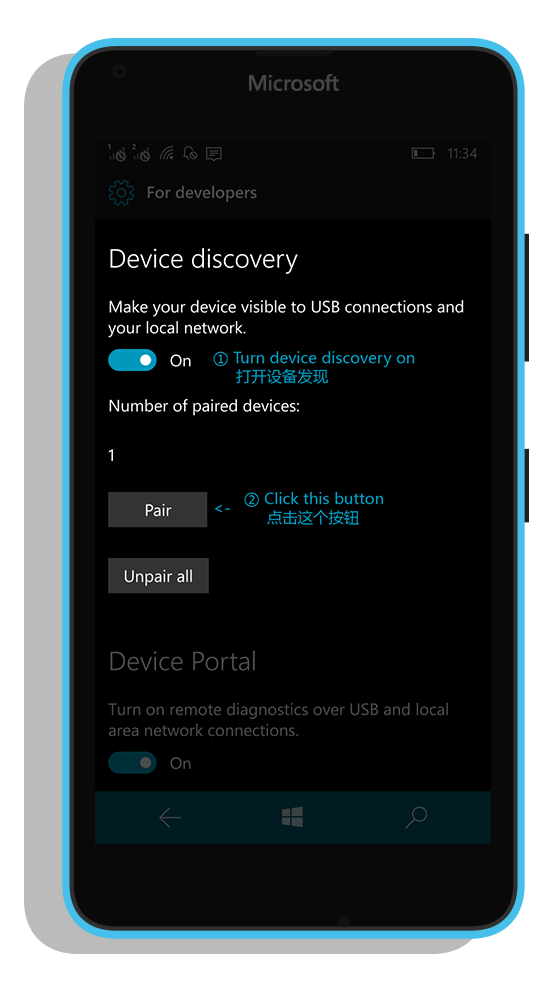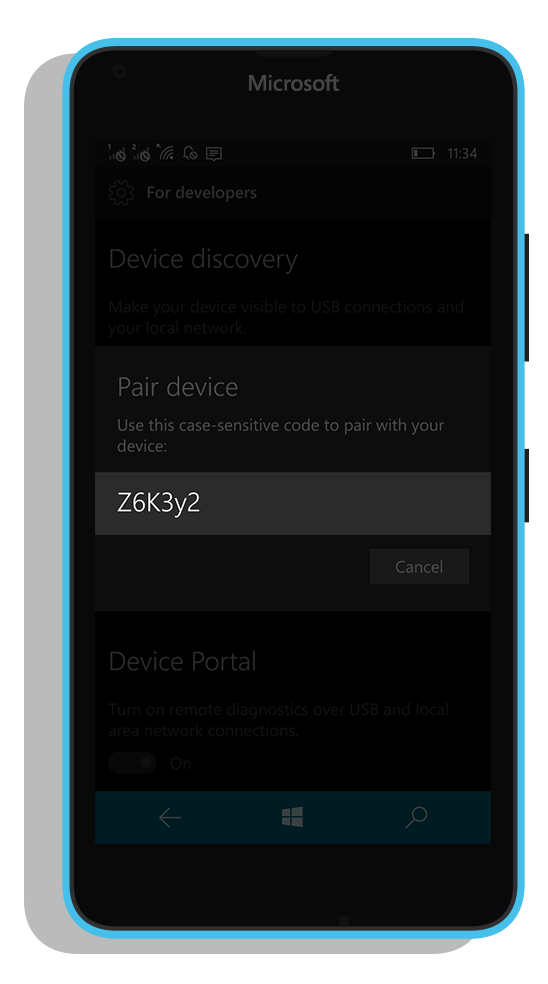 Then enter the pin in the text box in the configure page.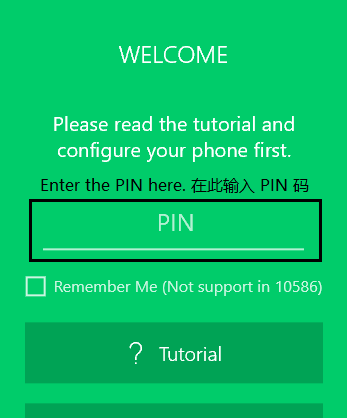 [Chinese]
There's no different between Paid version and Trial version.
Quick Shutdown 是一个一键关机应用,您可以用它来实现一键关机而无需长按电源按钮。在您能够正常地使用本应用之前,您还需要对您的设备进行一些简单的设置。
首先,您需要将您的手机切换至"开发人员模式"
打开 设置 > 更新和安全 > 面向开发人员
点击"开发人员模式"
打开"设备门户"
如果您的设备正在运行 10586 版本的 Windows,我们建议您将"设备门户"下的"身份验证"功能关闭,否则每次在您打开本应用时,系统都会向您索要登陆凭据。但是另一方面,如果您关闭了验证,在您连接到公共网络时,任何人都将可以远程连接到您的手机,可能给您的设备带来安全隐患。
(10586 中,"记住我"功能因为未知的原因不再工作,如果您依然打开"记住我"功能,配置会失败,所以才需要关闭验证功能)
如果您仍在运行 10586 之前的版本,您可以放心地打开验证功能,系统只会在您刚刚安装完本应用时询问一次凭据,以后再启动则无需输入密码(在初次登陆时勾选"记住我")
对于不按指示使用本应用造成的损失,我们将不负责任,这仍是一个测试版应用。我们已经警告了您关于使用本应用可能带来的影响(包括但不限于设备被攻击、数据丢失、硬件损坏等)如果您认为以上的说明您不能接受或有何不妥,请删除本应用,对于已经付款购买的用户,请您联系我以获得退款。
若要获取配对密码(PIN),您需要打开 设置 > 更新和安全 > 面向开发人员,打开"设备发现"功能,点击"配对",一个对话框将会出现在您的屏幕上,对话框中的密码就是您所需要的PIN(区分大小写)
最后在程序的配置界面中的文本框处输入PIN
收费和试用版功能完全相同
如果各位dalao觉得好用,也还求支持下qwq
万分感谢